You are here
cKers Finance, India's first sustainability focused project financier, recognized as a Pacesetter Fund awardee
Source Url:
http://sustainabilityoutlook.in/news/ckers-finance-india%E2%80%99s-first-sustainability-focused-project-financier-recognized-pacesetter-fu-0
cKers Finance,an innovative project finance provider, received the PACEsetter Funds Award at a function presided by current US Ambassador to India, Mr. Richard R. Verma and Dr. Upendra Tripathy, Secretary, MNRE at the India Habitat Centre in New Delhi. 
cKers Finance has been launched by cKinetics, a leading sustainability innovation and investments firm in partnership with IIM Ahmedabad's Center for Innovation, Incubation and Entrepreneurship (CIIE) , India's leading technology business incubator. cKers has also found early backing from INFUSE Ventures, a leading cleantech venture capital fund. cKers was selected for the award for its differentiated approach to providing competitive project finance and long-term venture debt financing to technology-backed interventions in the sustainability space.
Jointly capitalized by the Indian and US Governments, the PACEsetter Fund is a USD 7.9 million initiative to accelerate the commercialization of innovative off-grid clean energy access solutions. The initiative is administered by the Indo-US Science and Technology Forum (IUSSTF), New Delhi.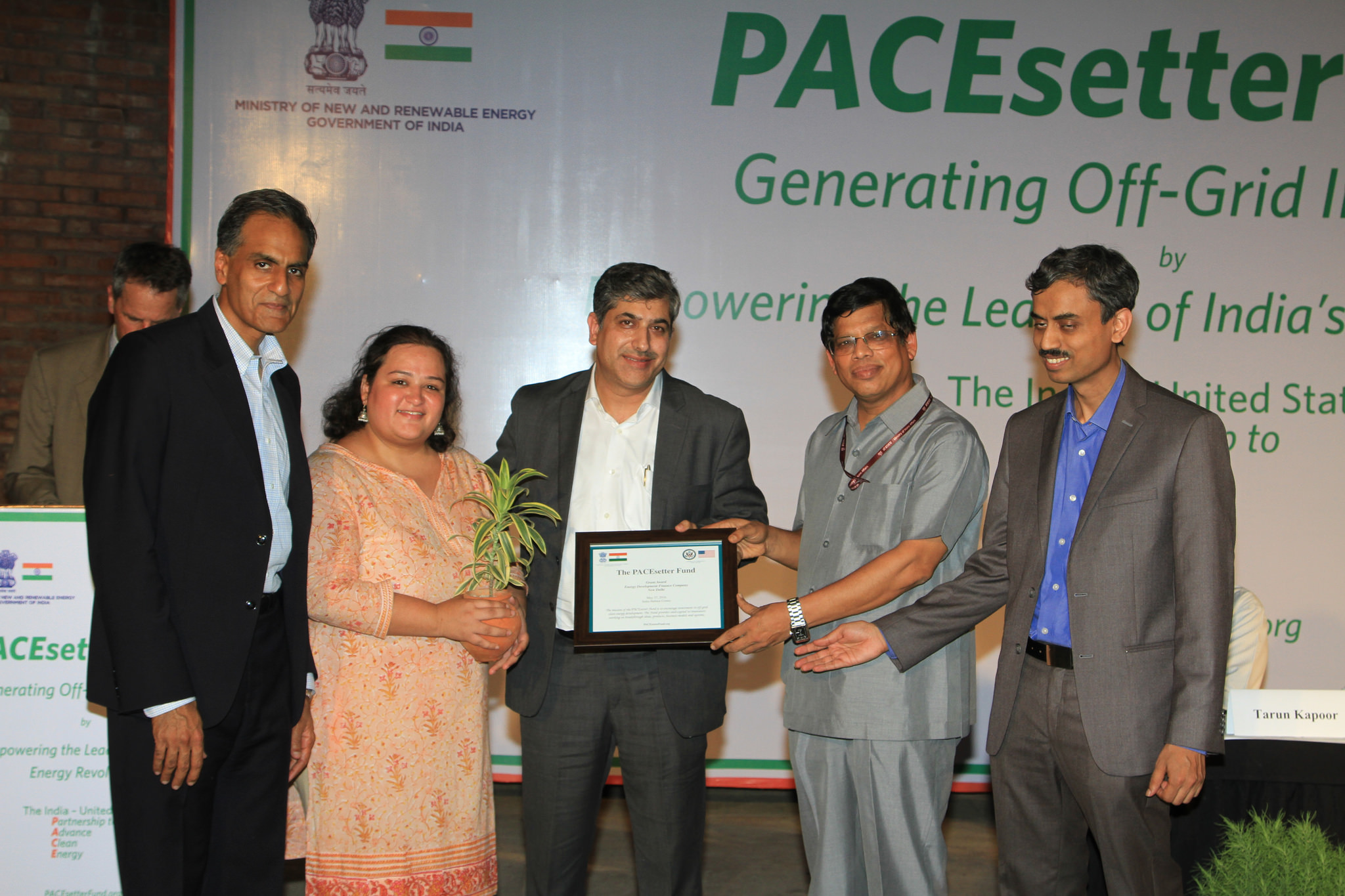 Standing from Left to Right: Richard R. Verma, US Ambassador to India, Shradha Kapur, cKers Finance, Upendra Bhatt, cKers Finance, Upendra Tripathy, Secretary, MNRE, Jayant Prasad, cKers Finance
Speaking at the award function, Ambassador Verma highlighted, "Two-thirds of the India of 2030 is yet to be built. This is a daunting challenge, but also an opportunity to use innovative technologies to leapfrog development. Nowhere is this more true than in the field of energy. If we can work together to make the right investments now, the India of tomorrow can have access to clean and reliable power to fuel its economic rise, while also combatting the effects of climate change."
Accepting the award on behalf of cKers team, Upendra Bhatt, Board Members of cKers Finance expressed, "We are very excited with this recognition – it certainly enthuses us as cKers works to scale its operations. Our innovative approach to providing long-term debt financing to technology-backed interventions in the sustainability space closely aligns with the goals of the PACEsetter Fund."
He further added, "The growth of the DRE /off-grid segment necessitates appropriately designed debt capital for clean energy projects, and for standardized benchmarks for evaluating prospective projects. Building off the deep expertise and industry leading relationships of its principals, cKinetics and CIIE, cKers Finance is uniquely positioned to take on a market making role by architecting appropriate risk models for the space. In addition, as a beach-head, cKers is increasingly being sought as a partner by impact investors and also mainstream financing providers – our patient, blended and stratified capital approach will enable financing scale to emerge in the years ahead."
About cKers Finance
cKers Finance is a market-maker project finance platform that drives innovation in financing in areas related to Energy and Resource Sustainability. It invests in assets that will provide a higher return than what the market anticipates on a risk-adjusted basis. It has been launched by cKinetics (www.cKinetics.com), IIM Ahmedabad's Centre for Innovation Incubation and Entrepreneurship (www.CIIE.co) and also backed by Infuse Ventures (www.InfuseVentures.in). For further information: contact@ckersfinance.in
Media Contact
Saurav Kumar