You are here
Recycled Plastic Lumber: Potential winner for plastic waste problem?
With growing urbanization in India, waste management is emerging as a key challenge facing the country. Indian Centre for Plastic in the Environment (ICPE) estimates the plastic consumption for the year 2013-2014 to be around 9.182 Million Tons. Although, 60% of the plastic waste generated in the country are either processed or recycled, typically the low value plastic waste (such as thin polybags,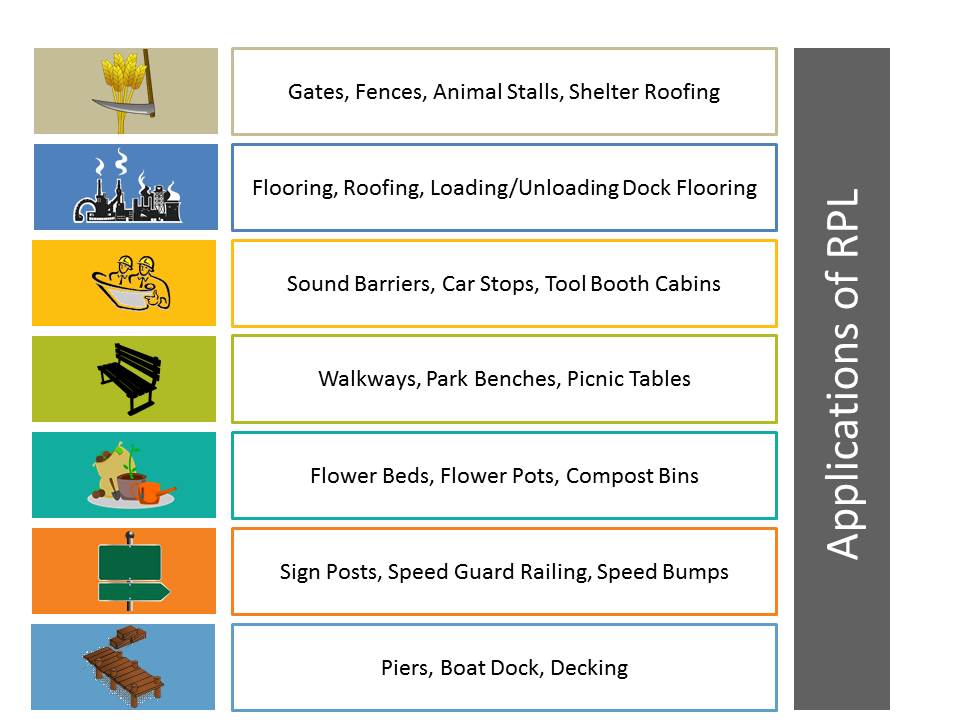 multilayers pouches, laminates and metallized films that majorly come from household and food packaging) finds its way into the landfill due to low economic value (due to low weight-to-volume ratio) associated with its collection. The recently notified Plastic Waste (management and handling) Rules 2016 encourages mechanical recycling of this low value mixed plastic waste through solutions like Plastics to Roads, Plastics to Fuel Oils, Incineration in Cement Kilns, etc. However, there are a few environmental and scale up challenges associated with these traditional solutions which limits their use for low value plastic waste. 'Recycled Plastic Lumber' (RPL) is a promising mechanical route to recycle this low value plastic waste. Recycled plastic lumber (RPL) is a wood-like product manufactured from recovered plastic granules mixed with other materials, which can be used as a substitute for concrete, wood, and metals having wide range of applications. 
REFLEX (Recycling of Flexible Packaging) Project in United Kingdom is a a consortium of companies from across the value chain of flexible packaging (like Axion Recycling (project leader), Amcor, Dow Chemical Company, Interflex Group, Nestlé UK, etc.) to make collaborative efforts to understand and solve the technical barriers in mechanical recycling of flexible packaging in the post-consumer waste stream.
Recycling of post-consumer flexible packaging waste through RPL route offers great opportunities to solve the problem of plastic waste management. The products manufacture using RPL has clear product advantages in terms of life, durability and low or easy maintenance. Moreover, it also reduces the amount of waste required to be disposed and hence the amount of land required to be maintained as landfill.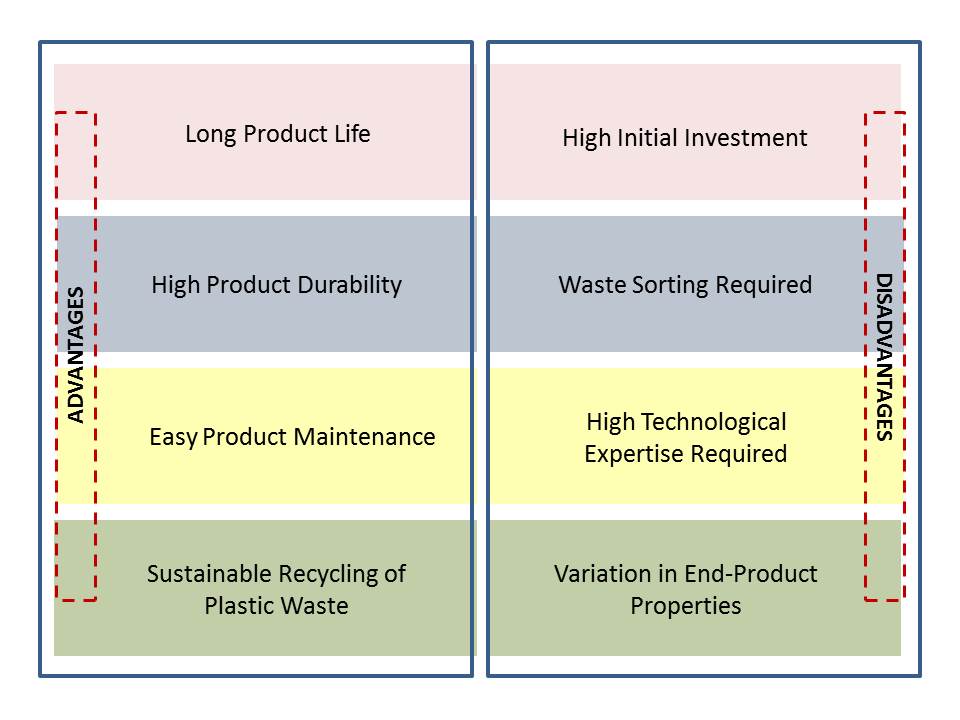 However, despite their advantages, RPL based products has not been able to scale-up in India due to a variety of reasons. The process of recycling of the plastic waste involves sorting, melting, shredding/ granulation of the waste. For the purpose of effective recycling, high performance sorting is required to ensure that the input material is separated to highest level of purity in order to maximize the quality and volume of the recycled resin. Hence, effective recycling of this waste stream requires consistent supply of good quality  (i.e dry, segregated, clean) waste stream. Lack of incentive for collection of this low value plastic waste due to its low weight-to-volume ratio is a hurdle for consistent supply of the waste stream. Moreover, unavailability of the wood filler material, lack of competitiveness due to relatively higher end product price, etc. adds to the problem.
Some RPL manufacturers in India are as below: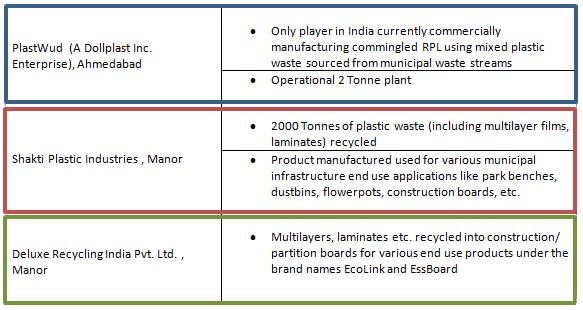 Recycled Plastic Lumber has high potential to solve for the increasing problem of plastic waste management. Proper incentives to the RPL manufacturer, inculcation of culture of segregation at source, integration of all the stakeholders in the value chain including the informal collection sector, development of market for end products for the polymer recyclate stream are necessary to ensure sustained growth of the sector.
Providing fiscal incentives for RPL recycling plants (i.e. land and power) and thrust for adoption of products manufactured using RPL by establishing minimum procurement clause for RPL end products in municipal infrastructure applications under various schemes like AMRUT, Smart Cities mission etc. are likely to strengthen the business case for this solution so that it can be scaled up and replicated in all parts of the nation.