You are here
Optimizing Water Use in the Thermal Power Sector
The power sector is a priority sector for the nation. The sector has seen remarkable growth with a CAGR of nearly 14% in the last five years and is expected to grow even further as the country paves its way towards development. Economic growth, industrialization has driven growth of the power sector and as the country signs up for some radical initiatives like "24*7 Power For All", it would further provide thrust to the growth of the sector. The total installed power capacity in the country as of 30th September 2016 was approximately 3,08,038 MW. The thermal sector's contribution to the total installed power capacity was nearly 69% with the remaining 31% of the total capacity coming from nuclear, hydro and renewable sector. The coal fired thermal power generation has the lion's share in the total power generation through the thermal route with 88% while gas fired and diesel fired power generation contributed the remaining 12% of the total thermal power generated.
Water shortages stunting growth of power sector
Unavailability of water has posed major setbacks for the operations of coal based thermal plants in the past. A Greenpeace study shows that the number of days the units of Adani's Tiroda plant, NTPC's Farakka plant, GMR's EMCO Warora plant, KPCL's Raichur plant, Mahagenco's Parli plant were shut down for a period of 4 months (Jan 1-May 21, 2016) due to insufficient supply of water, caused them a loss of nearly 6,828 Million Units of generation which implies a revenue loss of nearly INR 2,400 crore (assuming a conservative average tariff of INR 3.5/kWh).
Company

Plant

Million units generation
foregone (Jan 1-May
21, 2016)

Potential revenue
foregone (Rs. lacs) (Jan
1-May 21, 2016)

NTPC

Farakka

1,119

391,83

Adani

Tiroda

570

199,58

GMR

Emco Warora

480

171,36

Mahagenco

Parli*

4,529

158,516

KPCL

Raichur

130

4,211

Total

 

6,828

239,004 lacs
Table 1: Revenue Loss in First Quarter of 2016 due to Power Plant Shutdown  
Source: Greenpeace
However, despite this many major future projects have been planned in regions of high water stress thus increasing risks for the coal based power plants and their operational viability in the country. Major players in the market such as NTPC, Mahagenco, Reliance Power, etc. have been exposed to operational risks due to high water stress in the country.
Instances of delay in plant construction due to water availability issues as in the case of Mouda, Solapur plants of NTPC has been increasingly driving this sector to adopt the principle of 3R, i.e. Reduce, Reuse and Recycle. NTPC's North Karanpura Thermal Power Station having a capacity of 1980 MW has gone a step further towards reducing its water footprint by adopting air cooled condenser system. Moreover, shut down of the thermal power units is a huge loss in revenue and adoption of reuse and recycle of the effluent stream seems to be the only way forward for sustained operations. 
Cooling Tower and Ash Handling Unit: Mammoth Water Consumer, Scope for Optimization Exists
The two major water consuming hotspots in a coal fired thermal power plant are the cooling tower and ash handling unit as can be seen below.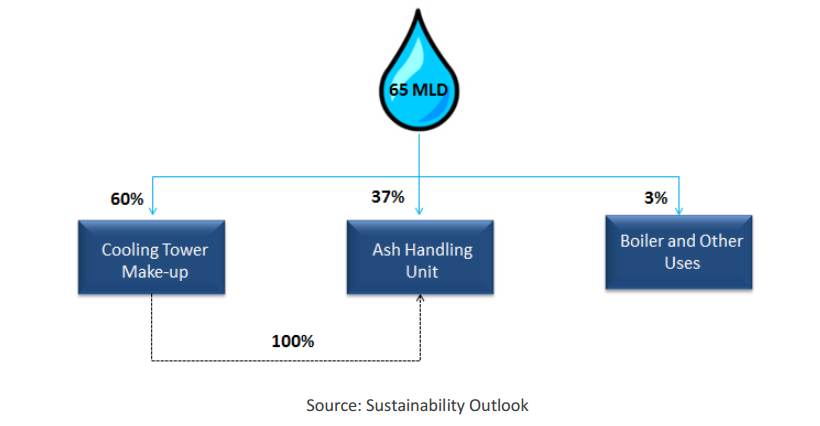 Figure 1: Water Requirement in a 500 MW Thermal Power Plant with No Ash Water Recirculation
Figure 2: Water Requirement in a 500 MW Thermal Power Plant with Ash Water Recirculation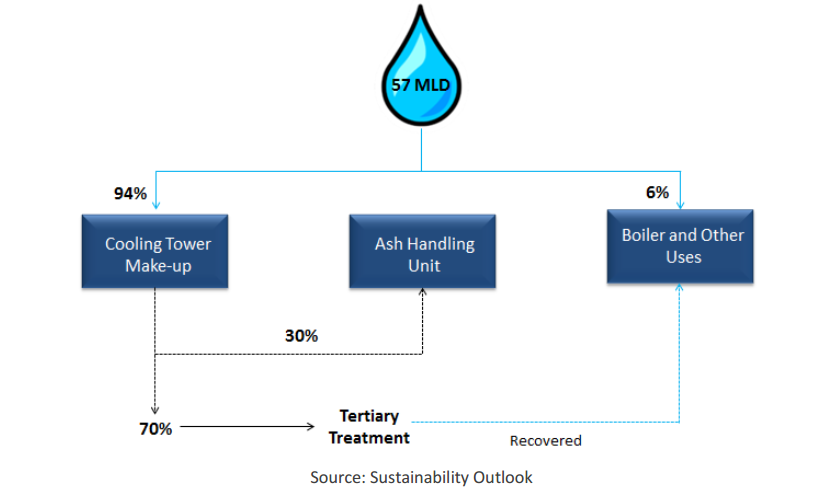 Figure 3: Water Requirement in a 500 MW Thermal Power Plant with High Concentration Slurry
In the cooling tower, the total water requirement is to make up for the losses due to evaporation (1.7% of the circulating water), drift losses (0.05% of the circulating water) and Cooling Tower Blow-down (CTBD). The amount of water consumed and effluent generated depends on the cycle of concentration of the cooling tower. Optimizing the Cycles of Concentration (COC) and the TDS of the input water is very important for the operation of the cooling tower. When water evaporates from the cooling tower, dissolved solids remain in the circulating water. As more water evaporates, the TDS (Total Dissolved Solids) concentration increases. If the TDS concentration gets too high, it can cause scaling and corrosion. Hence, the concentration of dissolved solids is controlled by removing a portion of the concentrated water known as Cooling Tower Blow-down and replacing it with fresh make-up water. 
Hence, optimizing the TDS of the make-up water and increasing the COC of the cooling tower is a step to make the plant more water efficient. Other than the cooling tower, a major source of water consumption is the ash handling unit. Indian coal contains nearly 34% ash. In a coal fired thermal power plant of 500 MW capacity nearly 3000 TPD (Tons per day) of ash is generated. The ash generated is usually handled in a lean slurry form where for one part of ash almost 9 parts of water is taken to make the slurry. New plants to be commissioned are likely to adopt High Concentration Slurry Disposal.
New plants have a commitment to achieve a COC of 5, while many players such as NTPC intend to achieve even 7 in the coming years (ash concentration=60%) for the fly ash, while the existing plants would need to adopt ash water recirculation as shifting from lean to high concentration slurry disposal has technological challenges, thus ensuring sustainable water use by thermal power plants.
Hence, the way forward for the industry would be to improve the Cycle of Concentration (COC) of the cooling tower to reduce the make-up water requirement and start ash water recirculation. As the coal-fired thermal power shifts towards these water management practices, the water footprint would reduce. Moreover, recirculating the ash water would create an opportunity to recycle the unutilized Cooling Tower Blow-down water through membrane technologies such as Ultra-filtration and Reverse Osmosis which currently is utilized completely for ash handling. This would also create opportunity for ETP (Effluent Treatment Plant) for treating the ash water that would be re-circulated back.
Scenario

Plants Commissioned
Before 1995

Plants Commissioned After
1995

New Thermal Power Plants (To be Commissioned after
2017)

Current Scenario

Low COC

Medium COC

High COC

Lean Slurry

Lean Slurry

High Concentration Slurry

No or Minimal Ash
Water Re-circulation

No or Minimal Ash
Water Re-circulation

No Re-circulation Required

Low CTBD Recovery
Potential

Low CTBD Recovery
Potential

High CTBD Recovery Potential

Future Scenario

Low COC

Medium COC

High COC

Lean Slurry

Lean Slurry

High Concentration Slurry

Ash Water Re
circulation

Ash Water Re
circulation

No Re-circulation Required

Medium CTBD
Recovery Potential

Medium CTBD
Recovery Potential

High CTBD Recovery Potential
Table 2: Market Opportunity for ZLD to Increase Six Folds by 2020
The total cumulative ZLD market potential for coal based thermal power industry is likely to reach the figure of INR 88,711 million (USD 1,344 million) by 2020. Investment in the tunes of around INR 29,321 million (USD 444 million) would be made for Effluent Treatment Plant (ETP), while potential from tertiary treatment would account for nearly 67% of the total potential of about INR 59,390 million (USD 900 million). The potential from ETP has been calculated for the gradual uptake of recirculation of ash pond water in ash handling unit due to stringent policy norms and water unavailability. The potential for tertiary treatment technologies has been calculated for the unutilized Cooling Tower Blow-down (CTBD) that can be recovered through tertiary treatment for utilization in operations as it has relatively less TDS and pollution potential in comparison to other industries such as textile industry. The industry is also likely to spend nearly INR 35,794 million (USD 542 million), cumulatively as operational expenditure by 2020. The concentrated reject from the tertiary treatment can be disposed of in TSDF's (Common Integrated Treatment, Storage & Disposal Facilities), ash ponds or evaporated through Multiple Effect Evaporators (MEE). Market estimation based on analysis does not include additional investment for MEE because there is no clear direction in policy for adoption of MEE and industry is evaluating the option of disposing high TDS reject in the ash ponds. The environmental impact from the disposal of high concentration reject stream is still unclear and would require further investigation and/or clarification from the pollution control board for effective MEE adoption, in which case the expected investment would further increase creating an additional potential of INR 12,000 Million (USD 180 Million) for Multiple Effect Evaporator (MEE).
Figure 4: CAPEX-OPEX Scenario for Different Configurations
ZLD to Increase End Product Price by 3%
Achieving ZLD through recovery of effluent stream does involve investment in tunes of crores and also substantial expenditure on operation, however it is likely to increase the end product price by a mere 3%. The production cost would increase by approximately by 0.08 INR/unit, i.e. from ≈2.74 INR/unit to ≈2.82 INR/unit. The levelized cost of water after adoption of ZLD would be around 10.4 INR/Kl, which includes CAPEX, OPEX for five years and also adjusts for the cost due to reduced water consumption. Hence, ZLD won't have an impeding effect on business rather would reduce the operational risks due to water unavailability.
Air Cooled Condensers: The Way Forward
The policy requirement is to reduce the specific water consumption to 2.5 m3/MWh. However, with the reducing per capita water availability in the country, the way forward is to adopt alternative pathways such as Air Cooled Condensers. Air Cooled Condensers provide great water saving potential as it utilizes ambient air as the cooling medium for the exhaust steam thus eliminating water requirement of the wet cooling systems, thus reducing water requirement to about 0.55m3/MWh. However, Air Cooled Condenser requires larger area, increases auxiliary power requirement (6.8% for plant with ACC as compared to 6.5% for a plant with wet cooling system (IDCT)), has lower efficiency (reduces unit output by 7% in comparison to wet cooling systems) and has higher cost (0.5-0.7 crore/MW higher in comparison to wet cooling system). Hence, adoption of Air Cooled Condenser has not taken up much in the country. Irrespective of the drawbacks associated with air cooled condensers, it is a promising solution for power generation in areas with inadequate water supply. One such example is the North Karanpura super critical thermal units of NTPC which is in the process of implementation of Air cooled condenser unit.