You are here
Opinion: Water - A Burning Platform
India is in the ropes of an unforgiving water shortage in Chennai and Karnataka that is continuing to haunt residents. While Kerala is inundated as a delayed monsoon season has proved itself a strong adversary. As the current situations worsen, India is in dire need of water management to ensure clean water availability to all. This article explores the current context of water management challenges and makes a case for why a Bureau of Water Efficiency is a good start to fixing India's water problem.
"Nothing is softer or more flexible than water, yet nothing can resist it" - Lao Tzu      
The media is awash with details and data on the shortage of water in different parts of the country. People are standing in serpentine queues for a pot full of water, or going down deep stair wells to draw one pot of water. Headlines that the IT industry in Chennai has asked its employees to work from home as there is no water in the IT offices on OMR Road have also been seen once too often. Malls have asked restaurants to reduce consumption or temporarily close. A worrying scenario!
The monsoon is adding to our woes - a delayed arrival in Kerala for instance. When it does rain, clouds download moisture in huge quantities in a short duration of time flooding cities and states, something we have never experienced in the past. 
The context of our current challenges:
In the 18th century, global population was 1 billion. In a span of 200 odd years the same has ballooned to 7.3 billion. Population started increasing when human beings moved from the nomadic stage to agriculture and again increased rapidly with the industrial age in the 17th and 18th centuries.
In India, population was 350 million in 1947 and is currently 1.1 billion. The availability of water per person in 1947 was 0.6 million litres per person per annum and has now decreased to approximately 0.1million per person per annum.
Clean Water availability is perhaps the biggest challenge that India faces. Niti Aayog's 'Composite Water Management Index (CWMI)' Report of 14th June 2018 indicates that "(i) 600 million Indians experience high to extreme water stress (ii) 75% households do not have access to drinking water on premises, while 84% of rural households do not have piped access (iii) 70% of water is contaminated, which ranks India as 120 out of 122 countries in terms of water quality."
The crisis is huge (see chart below) and it is imperative that water conservation and treatment/ re-use is rapidly scaled up. Behavioral changes in water use can come only though the levers of pricing and controlled supplies, while extending support to economically weaker sections of society. Rain Water Harvesting and Used Water Treatment & Re-Use (for all applications, beyond those involving human intake) must be mandated for all establishments,  as well as residential use.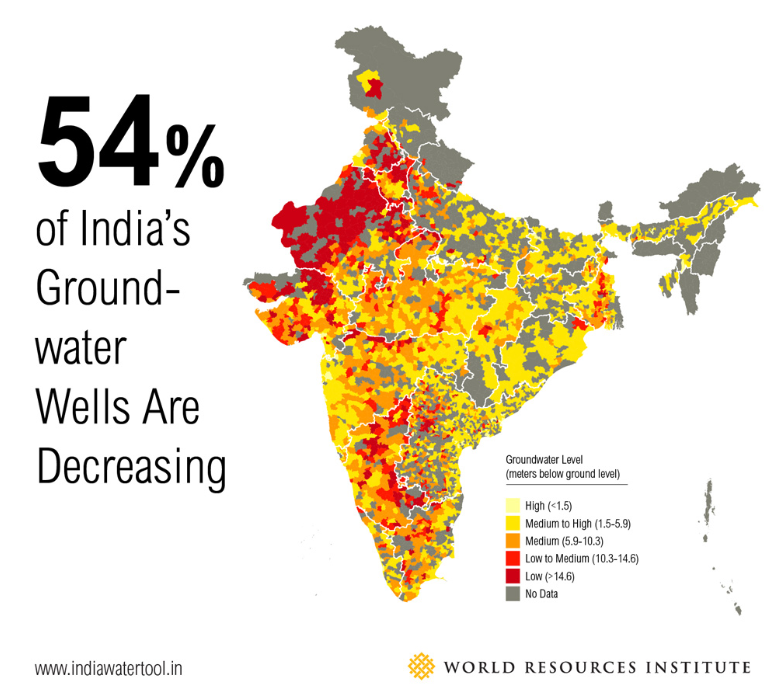 Establishing a Bureau of Water Efficiency can tamp down water mismanagement
As per official data, the agricultural, industrial and domestic sector uses 80%, 15%, and 5% respectively. There is huge waste in each sector. In order to conserve and reuse water optimally there is an urgent need to bring water management through a short term, mid-term and long term approach. This can be done by establishing a Bureau of Water Efficiency (BWE). The Bureau of Energy Efficiency (BEE) has helped save the nation INR 56,921.69 crores! (Source BEE)
In a similar manner, a bigger opportunity is possible in water management, considering that we are drawing water from deep bore wells across the country, or getting water from distant dams to our cities. The energy cost of water, unfortunately, has not been well documented in our country. The BWE will lead to mandating water consumption data and reduction plans annually by every sector to be featured in the annual reports of industries and residential welfare associations. They will need to explain reduction figures year on year and work towards reducing consumption. Needless to mention regulatory action will lead to unleashing the creative juices of all stakeholders. Many industries will come out with water efficient devices.
A simple water efficient device alone can help to reduce water consumption by 40 to 50 % approximately. The cost to fit the device is a mere INR 85/-. If the GOI takes an approach similar to LED in distributing the same to all existing homes, the cost can come down by 50%.
For the first time, the subject of water was discussed in Parliament on 25th June this year and featured in 'Mann Ki Baat' of the PM on 28th June.
Learnings from the current water crisis should lead to future positive change
In conclusion I would like to quote "When the going gets tough, the tough get going." Sometimes a crisis of the sort we are facing today leads to disruptive positive change. I hope this challenge will be converted into an opportunity by introducing simple ideas like offering half a glass of water in all catering establishments which will symbolically send a signal, not only Indians but globally as well, that every drop must be used with utmost care . Only by such small and big initiatives will we leave some water for the needs of the ecosystem and for other animals. About a month ago, tanker water was arranged for 300 peacocks and other small wild animals in the Tumkuru district of Karnataka.
The present crisis is a wakeup call to work on mitigation strategies. Let all stakeholders start taking initiatives and not forget the dangers of depleting ground water once we receive the first Monsoon showers!
Niranjan Khatri is the founder and principal consultant of iSambhav. He previously worked as the General Manager Environment Initiatives of ITC hotels where he pioneered the concept of eco design in Port Blair—a time when the term "eco design" perhaps didn't yet exist.