You are here
National Clean Air Programme: encouraging cooperation to address trans-boundary air pollution
7 of the top 10 polluting cities in the world are in India. However, fixing that requires a coordinated effort across a region and is not limited to actions within a city alone. Air pollution is "not a localized phenomenon": pollution trespasses states, regional and even national borders. The National Clean Air Programme (NCAP) was launched in January, and is the central governments' latest attempt to revive efforts to address this prevalent problem. 
NCAP outlines protocols to enhance inter-city communication, data sharing and common understanding to manage trans-boundary air pollution. This article outlines areas where NCAP can be enhanced by aligning it with other government efforts, and also learnings from China which commenced a similar activity 5 years ago.
Highlights of National Clean Air Programme
The primary goal of the NCAP is to reduce PM2.5 and PM10 (Particulate Matter) by 20%-30% over the next five years. Currently 102 non-attainment cities (cities' whose air quality standards do not meet National Ambient Air Quality Standards) under 23 states have been listed as participants, with no legal mandate.  The programme also suggests expanding on-going government initiatives like air quality monitoring stations, international cooperation and technology transfer to catalyze implementation. Since the programme is subject to expansion, improving existing framework hand in hand will ease future implementation. For the most part, these suggested targets cover urban areas, especially cities in Northern India. The programme has been allocated INR 3 billion, which has further been divided to account for the estimated cost of each target as well as the approximate timeline for its implementation.
MoEFCC uses Smart Cities Missions to launch NCAP in 43 cities
Existing city-based programs with a proper framework can give Central Pollution Control Board (CPCB) and State Pollution Control Boards (SPCBs) a head start in executing aspects of the clean air programme. Smart cities is one such initiative that was launched in 2015 with the intention of instilling 'smart' solutions to transport, water & waste management, housing and infrastructure related issues. CPCB and Ministry of Environment, Forest and Climate Change (MoEFCC) have designed the program so it works in conjunction with other initiatives. The Government of India is using the Smart Cities program to launch NCAP is 43 cities that are also in the non-attainment list.  These smart cities are working towards setting up infrastructure, funding and human resources to implement objectives of Smart Cities Mission (SCM). This indicates that SCM has an existing network of cities that can local and national level ministries can utilize for data collection and dissemination. The SCM already has a proposed INR 2 trillion worth of upcoming investments. Aside from healthy investments, smart cities' aim is to bring efficiency to public transport and a sustainable environment, goals that overlap with those of NCAP.
The issue of transboundary air pollution is woven throughout the programme as evidenced in action in the heavily populated Indo-Gangetic Plain
NCAP acknowledges that effects of air pollution often impacts regions both near and far away from the source of the pollution. This kind of regional cross-boundary pollution is prevalent in the Indo-Gangetic Plain (IGP). The region around the Indus and Ganges rivers consists of densely populated cities and is the source of heavy industrial and economic activity in the country. Consequently, the region has high levels of both urban air and water pollution compared to other parts of the country. Although NCAP is not designed to specifically tackle pollution in IGP, it illustrates how the programme is equipped to address ongoing cross-boundary pollution.
The IGP region includes Punjab, Haryana, New Delhi, Uttar Pradesh, Bihar and West Bengal. Out of the 102 non-attainment cities, only 29 cities on the list fall within the IGP states (see Graph 1).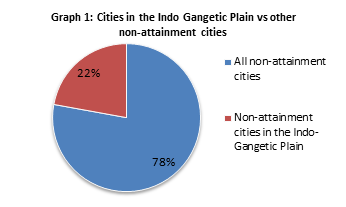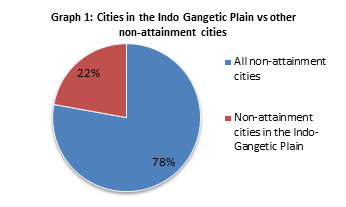 When it comes to air-monitoring, the NCAP has gone beyond the non-attainment cities. For example, out of a total of 691 monitoring stations across India, in the IGP there are presently about 191 ambient air quality monitoring stations (see Graph 2) to track polluted air moving across the region.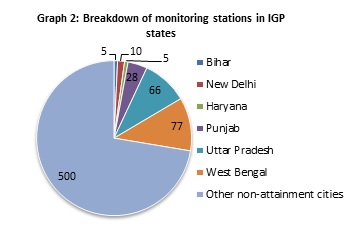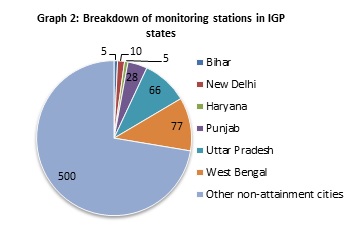 The NCAP is funding installation of 100 new air quality monitoring stations (adding to the 191 existing stations) in 40-50 cities around the IGP with about 2-3 stations in each city. This will help with air quality data that is currently lacking for different areas of each city and enable accurate data gathering for commissioned source apportionment studies.
In addition, in addressing transboundary air pollution, NCAP urges stakeholders to increase inter-state and inter-city coordination, through "capacity building" which entails technology and knowledge transfer from both international and academic institutions.
Coordinating with other government efforts and compliance strategies
Domestically, transboundary air pollution is treated as a subset of overall air pollution, as it has been in NCAP.  Even though the programme is cited to mitigate worsening air quality nationally, in doing so it has the potential to address transboundary air pollution by proxy.
In a separate effort, under the Environment Act (1986) MoEFCC and CPCB established effluent and emission limits for 113 industries in various sectors as well as mandated 24×7 ambient air monitoring stations for 17 major polluting industries. While presumably these policies will work in tandem, NCAP does not separately outline any sector specific targets.
Anumita Roy Chowdhary, Executive Director of Research and Advocacy at Center for Science and Environment echoed thoughts of other environmental experts in the market who agree that "National plan has to be made more stringent and should include compliance strategies", adding "state plans have to have a very clear pathway" in order to collectively achieve those compliance strategies. Recent federal efforts to improve stringency of the programme are evident.
The National Green Tribunal (NGT) announced that if loopholes in the program are not properly addressed, states will be liable to pay INR 2.5 million each and INR 10 million if they fail to submit an action plan.  At present, 83 city action plans have been submitted and 19 are still pending.
NCAP presents opportunities for international best practices to guide city action plans
NCAP highlights the importance of international cooperation that includes transfer in technology and expertise, which have historically been barriers for non-implementation of top-down policies. Cooperation involves taking from managerial and organizational procedures as well as pilot projects using new technology.
Ken Lee, Executive Director of EPIC India said "The NCAP's target of 20-30% particulate matter reduction in five years is ambitious, but possible." He goes on to cite China as a success story, "After China declared its own "war on pollution" in 2013, it achieved a 32% reduction nationwide in four years. Whether or not India can achieve a similarly impressive result will depend on the government's will power as well as pollution reduction strategies."
India's development trajectory has mirrored China as both nations often top the list of fastest growing economy. With unprecedented population growth and subsequent increase in production and consumption, both countries have experienced high levels of environmental pollution. China's Air Pollution Prevention and Control Action Plan (APPCAP) was launched in 2013 combining regional and city level approach to pushback on worsening air quality.
APPCAP's success lied in outlining concrete regional measures
The plan lays out ten measures and specific reduction targets for nitrogen dioxide, sulphur dioxide, carbon monoxide, ozone, PM2.5 and PM10. APPCAP divided the targeted areas regionally with Beijing being the only city with a hardline goal. Similar to India's IGP the targeted regions: Beijing-Tianjin-Hebei, Yangtze River Delta and Pearl River Delta are densely populated and the hub of China's industrial and economic activity.
The action plan found success by intending to avoid long-term effects of air pollution on health and environment.  China's initiative to decarbonize led the country to shift its coal consumption to natural gas and electricity. It is worth noting that China's decision to prioritize environmental sustainability is indicative of a country's transition into a greener economy. Developed countries like the UK and USA have implemented respective Clean Air Acts which have been successful without substantially compromising economic growth. 
Table 1: Overview of China and India's clean air programmes
| | | |
| --- | --- | --- |
|   | China: Air Pollution Prevention and Control Action Plan | India: National Clean Air program |
| Duration | 5-year plan(s). The plan has been extended for another 3 years (2018 -2020) | 5  years (with the possibility of extension) |
| Launched | 2013 | 2019 |
| Aim of the policy | 10% reduction of PM10 in urban areas; 25%, 20% and 15% reduction of PM2.5 in Beijing-Tianjin-Hebei, Yangtze River Delta and Pearl River Delta respectively | To reduce 20-30% of PM 2.5 and PM10 concentration by 2024 |
| Areas targeted | Beijing-Tianjin-Hebei, Yangtze River Delta and Pearl River Delta; megacities such as Beijing and Shanghai | 102 non-attainment cities |
| Areas impacted | Reduction of air pollutants acrossacross 74 key cities including Beijing | To be Determined |
| Successes of the program | PM2.5 concentration levels decreased by 33.3%;  PM10 concentration levels decreased by 27.8% over 5-years | To be Determined |
NCAP is on the right track as it lays out the tools necessary to address transboundary air pollution. The three key targets that can steer cities to successfully tackle transboundary air pollution - Capacity building to expand manpower in SPCBs and CPCB, source apportionment studies, and installation of Continuous Ambient Air Quality Monitoring Stations (CAAQMS), are expected to cost the highest. However, if achieved within the given timeframe, CPCB along with appropriate governing bodies can build on those existing tools to create regional plans to effectively address transboundary air pollution. 
It is quite likely that as the program is implemented in the coming years, gaps in the policy will surface. This will allow state and national level authorities to fill those gaps in the next iteration of this five-year plan. Even though other initiatives like the Smart Cities Mission can catalyze implementation, responsible ministries at state and national level should enable clear data dissemination across borders. Learning from APPCAP, rather than city-level approach, perhaps a combination of both regional and city-level approach might have to be adapted in order to achieve significant reduction in PM concentration along the IGP and nationally.  
Sources
Glossary
NCAP: National Clean Air Programme
PM: Particulate Matter
NAAQS: National Ambient Air Quality Station
CAAQMS: Continuous Ambient Air Quality Monitoring Station
APPCAP: Air Pollution Prevention and Control Action Plan
CPCB: Central Pollution Control Board
SPCB: State Pollution Control Board
NGT: National Green Tribunal
EPIC: Energy Policy Institute of Chicago