You are here
Energy Management Trends in Indian Industry
Sustainability Outlook carried out extensive industry-wide surveys and interviews amongst various stakeholders to uncover latest Energy Management Trends by Indian Industries.
These included:
Detailed survey and interviews with 85 leading Indian corporates 
In depth interviews with 50+ senior business leaders, subject matter experts, and catalysts
Through these interactions Sustainability Outlook has identified key demand side and supply side energy management initiatives. This market brief provides insights to the following questions:
What is the current state of energy management practices in Indian businesses?
What are the next generation opportunity areas for energy management within the Indian industry?
What are the demand side energy management initiatives?
What are the supply side energy management initiatives?
To read the entire report, click here.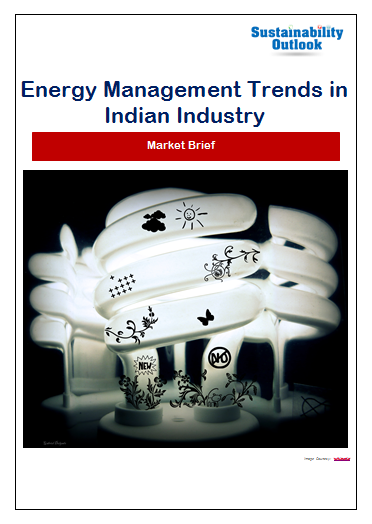 This brief is an outcome of on-going industry engagement efforts by Sustainability Outlook to capture the Energy Management Trends the Indian industry. 
To get engaged in the process of identification of sustainability trends in India for 2015, nominate your sustainability initiatives for the 2015 Parivartan Sustainability Innovation Awards. Help uncover and shape the 2015 sustainability trends for India Inc. 
To receive the reports, get engaged or to learn more about the on-going work related to Corporate Sustainability, please email us at mait@sustainabilityoutlook.in (Market Access & Insights Team at Sustainability Outlook)