You are here
Market outlook for Zero Liquid Discharge (ZLD) in Indian Industry
Zero Liquid Discharge (ZLD) guidelines were recently introduced for four industrial sectors (textile (wet processing), distilleries, pulp and paper and tanneries) in India. Since March 2015 when Central Pollution Control Board (CPCB) issued notifications to 9 State Pollution Control Boards of states along the Ganga basin, a series of notices have been sent to factories asking them to submit action plan for achieving ZLD or face severe penalties (including shut down).  The ZLD mandate has helped increase the focus of the industry to water which has traditionally been an under-priced resource. However, uniform policy across different regions in the country is key to the widespread adoption of ZLD since high operating costs (which in turn impact end product cost) will make factories shift to other areas (and pollute freely there) to stay competitive rather than installing ZLD plant in their facility.
Cost is high but not as significant as compliance
While the ZLD technology has been available and mandated in industries in Europe since the 1980s, it is still at a relatively nascent stage in India.  This is because ZLD systems are associated with high capital investments and even higher operating expenses. More than 90% of this operating cost is incurred during evaporation, which is a very energy intensive process. This is because, after various stages of filtration, chemical treatment, and separation of water from chemicals following Reverse Osmosis (RO), the RO Reject is first evaporated and then condensed to recover the water.
A ZLD plant operating at 5 Million Liters per day will incur between Rs. 50-60 crores (USD 4-5mn) in CAPEX and spend Rs. 15,000-25,000 (USD 250-400) as OPEX per day. Thus, the treated and recycled water costs approximately Rs. 200/kl, while the cost of water extraction from the ground or from the municipality would be between Rs. 30- Rs. 60/kl. (Source: cKinetics)
Some feel that the industries might not survive due to this cost burden. However, there are others who differ. According to Mr. Dinesh Yadav, Director, Arvind Envisol who worked on both sides of industry said "Most of the Industry is closing down due to non-compliance. We don't see industry getting closed where treatment cost was high. It is the outlook and how one looks at it, cost of treatment and cost of technology cannot close any industry, it will only make it sustain and grow."
To support this fact, we can take a look at what happened in Tirupur, Tamil Nadu in 2008 – 2011. In 2008, the Tamil Nadu government mandated zero liquid discharge for the textile wet processing industry in Tirupur. Many ignored this mandate and in 2011 Tamil Nadu high court ordered forced shut down of more than the half of the textile factories in Tirupur. Many went out of business permanently due to non-compliance. Mr Palanivel Rajan, COO at Asian Fab, one of the survivors post the mandate in Tirpur said "For us the key was that we planned for the future. We were one of the early adopters of ZLD in Tirpur right after the 2008 mandate for textile and that helped us to survive when others went out of business."
There is no single treatment technology which is better than others in achieving Zero Liquid Discharge in all the given industries as it depends on quality and contaminants in the waste stream. Therefore is confusion about ZLD as a whole as it is not a single system but a combination of various treatment processes which may vary from industry to industry. This is due to the fact that the type to technology depends upon the quality of effluent and process water quality requirement.
But that should not stop us as per Mr. Yadav says "From treatment to ZLD it is a long and complicated journey. Selection of technology should be done with the example of its operations, solutions which provide bank guarantee and its power, chemical consumption and water quality guarantee too should be considered, all the solution providers will provide this guarantee if they meet the standards and comply it. But with change in chemicals used as inputs and with upgrading system the technology should be changed, which is difficult, hence there has to be continuous up gradation to be made to avoid the complexity"
As far as operating cost is concerned, there are new technologies coming up which will reduce the cost of operation in ZLD. Mr. V. D. Babu, Region Manager – South Asia, Systems & Projects – Industrial at GE Water & Process Technologies said " There are recent technologies developed in American market, which will come here soon and the oxygen transfer will be 4 times higher which will reduce the energy usage in biological treatment. Similarly about the RO, new technology is coming up which will reduce the consumption of energy by 30 to 40%"
Government willing to support small and medium players
Sectors like Textiles are dominated by small and medium players, who cannot afford to implement ZLD as the technology as it is too expensive for them and they won't be able to afford to put up a plant on their own. But government is ready to provide a helping hand to these small players. Dr. Madhusudanan, Senior Scientist, CPCB said "To tackle this CPCB has suggested these small players to have industrial parks and treat their water in a Common Effluent treatment Plant (CETP) based on ZLD principle." According to the government policy for industrial CETPs, industry only has to invest 25% of the capital cost for CETPs as central government and state government will cover the remaining 75% of the capital cost.  This still doesn't cover the operating cost which is huge compared to the initial investment. Therefore, government is formulating a policy specifically for textile industry to help and guide the small and medium players to achieve and sustain Zero Liquid Discharge.
Although currently the industry is looking at it as a challenge and a sunk cost, in long term ZLD has the potential to provide tangible as well as intangible benefits to the companies. Take example of Arvind, they are experimenting with ZLD since 1998 they have always seen ZLD as a resource. Mr. Sandeep Patel, Head – Environment, Arvind said; "When we talk about scarcity of water, degrading quality of river streams our only sources of potable water, then we see ZLD as a resource rather than waste."
Industry viewing water differently due to ZLD mandate
Apart from this in some cases this cost can be offset by the resource recovery i.e. salt and other chemicals which can be again reused in the process. In textile industry for example there is enough scope to recover salts and brine solution which can be reused in the manufacturing process and reduce the impact of treatment cost on the overall cost of production.
A key issue to consider is that this mandate will drive water efficiency measures in the Indian industry. Lesser waste water means lesser treatment cost and thus improving water use efficiency will have significant benefits especially for industries like Sugar and pulp and paper industry, which have a considerably large water footprint. It is unviable for these industries to implement ZLD at their current levels of water use. Considering this, CPCB has issued only water conservation norms for both the industries which will help them move to ZLD in future.
Key is that there is a gradual transformation of the way water is viewed in India due to the ZLD mandate. Today water is an under-priced resource in most of the country and toxic waste-water is discharged without much consideration. This shift in focus around addressing water pollution and scarcity will lead to water being viewed as a shared resource in an ecosystem where polluters will have to pay for cleaning up their waste.
Sustainability Outlook has carried out a detailed analysis regarding the value chain and implementation challenges of Zero Liquid Discharge in Indian Industry. The most recent market brief can be viewed at http://www.sustainabilityoutlook.in/content/zero-liquid-discharge-outlook-indian-industry-755113
To get engaged and stay updated with our latest developments on Zero Liquid Discharge please write to us at mait@sustainabilityoutlook.in
In continuation  of our work in the domain of Zero Liquid Discharge, Sustainability Outlook has recently released "March to Sustainability: Zero Liquid Discharge", a primer for Zero Liquid Discharge in India, which describes the current scenario, illustrates the outlook for 2020 and quantifies the market opportunity with a focus on three highly polluting and water intensive industries, i.e. Textile (wet processing), Distillery (molasses based) and Pulp & Paper (large wood based).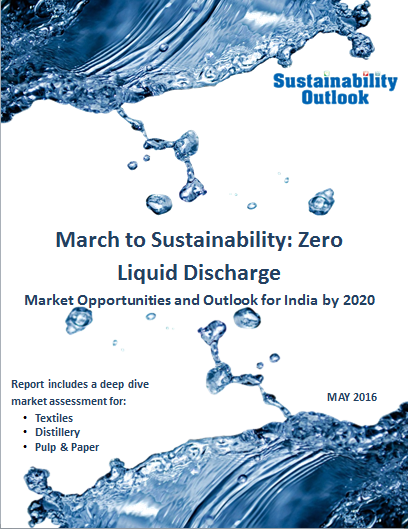 Report Price - USD 495.00