You are here
CSOs: Defining sustainability strategy and shaping long term business outlook
Chief Sustainability Officers are inter-disciplinary leaders that are shaping long term outlook in India's largest conglomerates. As part of its research on the increasing role of the Sustainability function, Sustainability Outlook hosted a conversation with India's leading CSOs (Chief Sustainability Officers) to explore how to "Design Strategy to meet Sustainability".
The discussion was chaired by KC Mehra, Former President, Quality Council of India; and had views from Tony Henshaw, Aditya Birla Group; Shankar Venkateswaran, Tata Group; Naresh Patil, Mahindra & Mahindra; and Aniruddha Agnihotri, TCS. Pawan Mehra, cKinetics moderated the conversation.
Role of the CSO and different triggers that initiated the Sustainability agenda
The period between 2006 and 2012 seems to be an inflection point for most Indian conglomerates to create Sustainability strategies. The discussion revealed how the drivers for formalizing Sustainability strategies were different for different organizations. For instance, the Aditya Birla group articulated a vision statement ahead of creating a Sustainability strategy, while the Mahindra group began their formalization of a Sustainability group driven by an investor's query. For TCS, their global customers started to ask for different Sustainability certifications, which prompted the environmental management and EHS functions to come together to address the need.
The CSO (Chief Sustainability Officer) role has been an emerging one, as businesses navigate the changing environmental, social and governance landscape. CSOs operates at the highest-level in an organization, chiefly as executives who oversee their companies' sustainability activities. Their functions are spread across a diverse array of activities that aim for long term sustenance of the business.
Different conglomerates are structured and organized differently for practicing Sustainability. For example- Aditya Birla conducts periodic group meetings to review their sustainability goals and strategies; while companies like- TCS have sustainability councils with operational heads; Mahindra & Mahindra has strategic discussion meetings in 'sustainability war rooms'.
The Tata group also has a dedicated 'TATA Sustainability Group' that equip the group companies with Sustainability Assessment Frameworks and Business Excellence Models to execute the sustainability strategies. 
Sustainability outlook and strategies by different leaders
According to KC Mehra, Former President, Quality Council of India, Sustainability is a core and an interdisciplinary element for any industry. It is not about focussing on only one aspect, i.e., economic,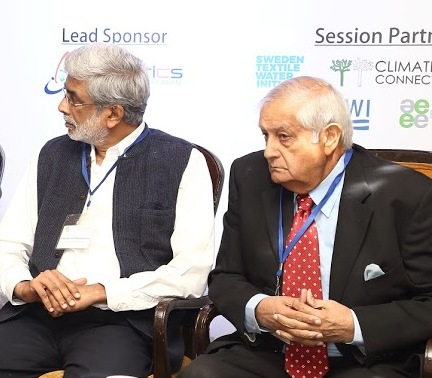 environmental or social sustainability; but it is about approaching the issue of sustainability in a holistic manner. Sustainability should be a long term concern for a firm, with the goal of increasing the longevity of the organization.  Beyond a firm, sustainability should also be a part of an individual's DNA and her/his responsibility.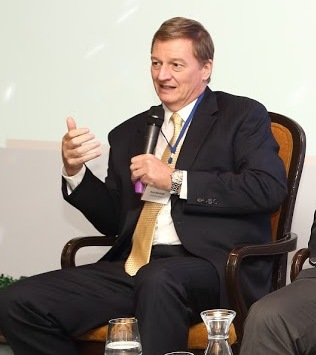 Tony Henshaw, Chief Sustainality Officer, Aditya Birla Group (ABG) discussed about his beliefs and ABG's sustainability journey. Mr Henshaw believes that sustainability for a business should be seen as how it will survive in the next few decades, i.e. whether the business is able to sustain itself by 2030/2040. At the gathering
Shankar Venkateswaran, CSO, Tata Group and K.C. Mehra, Former President, Quality Council of India
he asked that "if everyone follows the law, are we sustainable?" Unanimously, the answer was a 'no'. Mr Henshaw's view on role of sustainability is that of "responsible stewardship" and continually pushing the envelope to be in harmony with the operating ecosystem.  
Mr Henshaw has developed a 3 pronged approach:
a) Advancing best practices that have been adopted in other parts of the globe
Tony Henshaw, CSO, Aditya Birla Group 
b) Studying trend and influencing strategies
c) Implementing management systems
To create alignment with business lines, Mr Henshaw also ensures frequent interactions with CEOs of the group companies to help them understand sustainability.
Dr. Aniruddha Agnihotri, Head-EHS & Sustainability, TCS shared how TCS went through an evolutionary process. It began with a focus on EHS and environment management around 2003 and gradually building on it with learnings coming from the ISO 14001 certification. Subsequently, TCS started following the GRI guidelines in 2008 which helped to further refine the sustainability process. Eventually TCS became the first and the largest IT Company to pursue sustainability, being process-driven and process-oriented. Today, TCS has a well-defined governance structure for sustainability. It has a sustainability council that brings together business-unit heads with leaders that drive health, environment, social and safety issues.
Shankar Venkateswaran, Chief Sustainability Officer, Tata Group sees sustainability as how does a group manage 'complexity'. He explained that the Tata Group has a specialized team that helps the group companies address sustainability from three angles: 1) How to help get a group company become better, perhaps through cross-pollination of best practices from other group companies; 2) How to help the company become a leader by thinking differently in its industry?;  and finally, 3) How to support execution of a focused Sustainability strategy.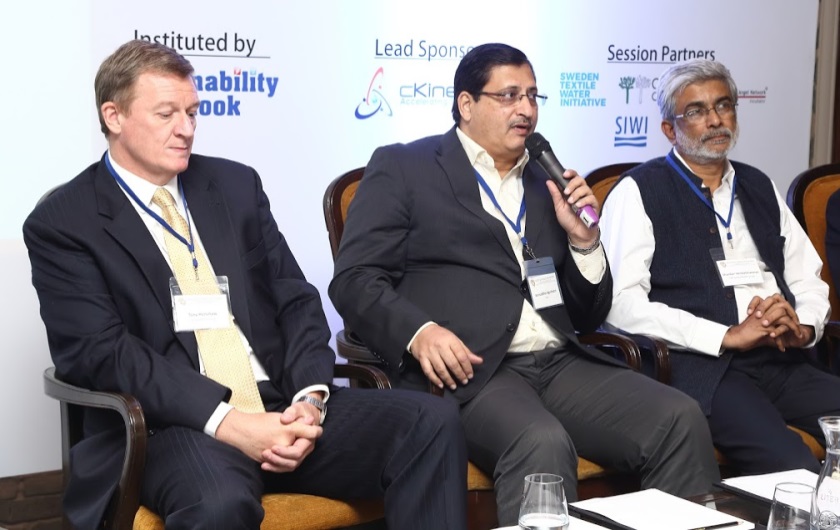 The strategy is adaptive, because each TATA company operates at a different speed, is at different stages of sustainability and differs on how they impact the community. The TATA Group believes in the necessity to keep customer, investor and regulation in consideration along with acknowledging the fact that other 
stakeholders are becoming powerful in their respective roles too.  So the companies should be better prepared to answer them. 
Mr. Naresh Patil, Deputy CSO; Mahindra & Mahindra; outlined how formal structures for the Sustainability function started to come into place when they saw global investors begin to take a view on it. Sustainability has always been a core component of their corporate DNA, but the reporting requirements created a trigger to look at a variety of different aspects systematically. 
Dr. Aniruddha Agnihotri, Head-EHS & Sustainability, TCS sharing his views at SBLF Summit
Since then, the strategic plan for sustainability has been formalized at the board level. The goals are defined, implemented and tracked at two levels at: 1) Board CSR and sustainability committee goals, including five-year mandates; and 2) Through "Sustainability war rooms" involving discussions between CSO of different companies in the group.
Mr. Patil shared how Business heads meet every 6 month for a sustainability oriented review and how the Sustainability Dashboard (which has 3 levels of scoring) has created a certain amount of internal competition in the company. In this journey, the group has also started to work with its extended supply chain to create resilience for its operations.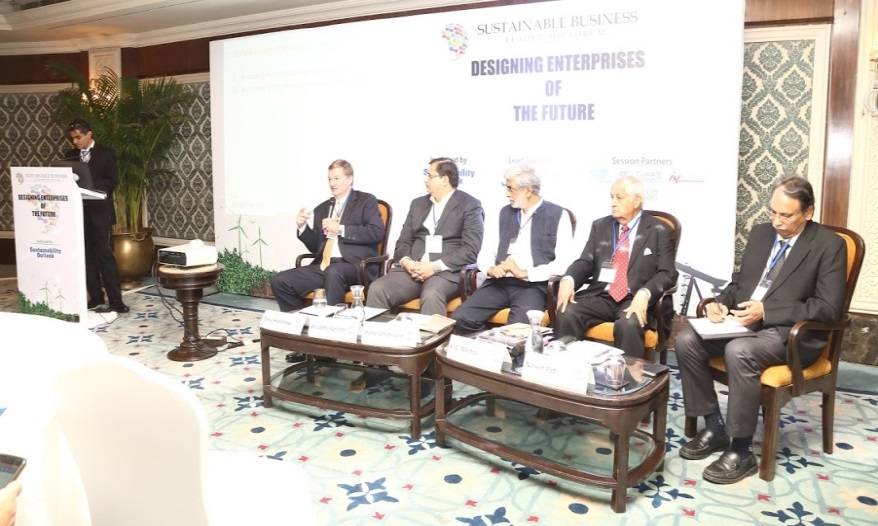 Active deliberation and discussion witnessed during this session 
Advancing the conversation
The conversation above was held at the Annual Summit of the Sustainable Business Leadership Forum as part of the research with Indian Institute of Management's Public Policy Group, on how Indian conglomerates are leveraging Sustainability for a long term competitive edge. In order to learn more or to participate in this work, please write to us at mait@sustainabilityoutlook.in
---