You are here
Corporate Green Leadership Alliance: Research organizations to take a central role in helping businesses go green
The Corporate Green Leadership Alliance, an initiative by the British High Commission was launched recently to bring together policymakers, think tanks, research organizations and industries to work together towards a low-carbon transition. The launch event highlighted some key thematic areas which the alliance was advised to address. This is a cross-sectoral collaboration to ensure the alliance becomes a 'one stop shop' for businesses who want to adapt low-carbon solutions.
The launch of the Corporate Green Leadership Alliance
The British High Commission launched the Corporate Green Leadership Alliance on 20th Nov 2019 in efforts to integrate existing private sector initiatives with agencies that have the expertise to accelerate transition into low carbon pathway. The alliance aims to intervene in four areas: Energy efficiency, renewable energy, electric vehicles and emerging technologies.  
In a time when consumer awareness on climate change is increasing, they are demanding corporations to implement green business practices. The alliance aims to convert that need into action by fostering knowledge sharing and becoming a primary source of technical support to enhance capacities of enterprises to adapt to low-carbon solutions. The alliance is comprised of think tanks and research organizations who will be working alongside India's growing industrial sector. Part of the goal is to make sure these initiatives establish best practices to help other businesses adapt approaches that have succeeded. During the year-long process PwC, British High Commission and WRI carried out consultations in various cities with stakeholders and corporates to narrow down strategic needs as well shortlist partners of the alliance.
The steering committee will be made up of representatives from partner and donor agencies, they are:
Alliance for an Energy Efficient Economy (AEEE)

Carbon Disclosure Project (CDP)

IamSMEofIndia

The Climate Group (TCG)

The Energy and Resources Institute (TERI)

World Business Council for Sustainable Development (WBCSD)

World Resources Institute (WRI) India

World Wildlife Fund (WWF)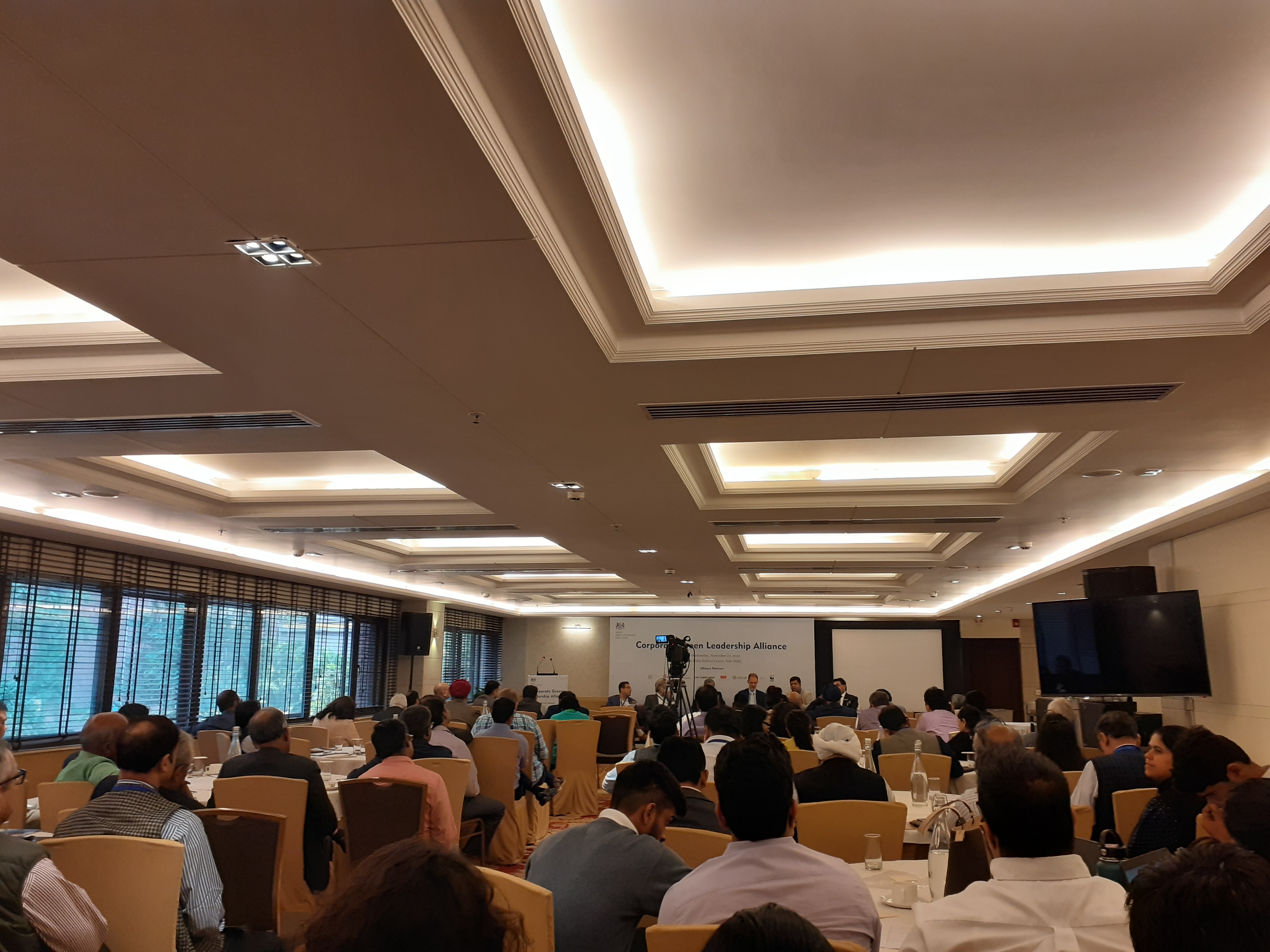 Profitability in green business
The discussion about incentivizing businesses often touches on the profitability associated in going low-carbon in the long run. While smaller industries can be very innovative in terms of resource management, they are risk averse. There is a pushback, especially from smaller businesses which comes from the perception that 'low carbon is high cost'.  More often than not bigger corporations, who have achieved economies of scale, have managed to adopt these practices whilst achieving profitability. The alliance hopes to disprove the skepticism that smaller businesses have been unsuccessful in greening the supply chain. Ulka Kelkar from WRI stated "small and medium enterprises are the backbone of this economy and the alliance should be inclusive and welcoming to all levels in the corporate sector". The National Green Tribunal's ban on pet coke and furnace oil in factories and temporary ban on DG sets as well as construction has pushed SMEs to think past conventional ways of doing business.
Unpacking green finance for SMEs
Investors are seeking to invest in poor performing businesses so they have the capacity to integrate ESG in business development. There also needs to be a continuing dialog on green investing and that advocacy has to be based on evidence (i.e. best practices). Sh. Shankar Venkateswaran, Operating Partner & Head ESG, ECube Investment Advisors stated that a cluster based approach can be applied to ESG investing. Since SMEs often operate in clusters, individual investments and commitments might be a hurdle however cluster investments may be viable option. The alliance hopes to partner with investors in the near future to enable easier communication between financiers and SMEs.
An optimistic start to a challenging journey
The initial dialog surrounding the creation of an alliance is an optimistic one. The conversation was steered in the direction of creating a roadmap for SMEs since businesses may not have the technical knowledge on what steps to take in order to adapt low-carbon solutions. Industry players in the conference highlighted the importance of collaboration since ultimately a sectoral change will have the biggest impact. For SMEs to participate, a cluster based approach was also suggested in this context which has the potential to drive economic growth through collective action.
The launch of the Corporate Green Leadership Alliance comes with the intention that this platform will enable communication which will instill knowledge, skills and other resources in supporting MSMEs to adapt low-carbon initiatives.  The WRI secretariat is set to start working on setting up the alliance by this year.